South Orange
Just outside of New York City, South Orange is a 400-year-old municipality that offers the historic charm of one of America's oldest cities with the convenience of being only a bus, train or taxi ride away from New York City.
What do residents love most about living in South Orange? The varied architecture, the demographic diversity, and the easy commute all make this town a highly sought after place to raise families—as detailed in the New York Times article Living in South Orange: The Love for One Orange.
People choose South Orange because it is a welcoming cross section of society, pulling residents from the bustle of Manhattan and the greater metropolitan area because of the focus on inclusion, the beauty, and the easy commute.
It doesn't take long to absorb the charm in South Orange, with working gas lamps and beautiful homes—around 85 percent were built between the late 1800s and the 1930s. But what stands out even more is the consciously integrated community of neighbors and friends.

Maplewood
This quintessential New Jersey suburb has become the end stop of a migration pattern from Manhattan to Brooklyn to Maplewood because of its hip vibe with a back yard, pairing urban cultural sensibilities with a small-town feel.
People are drawn to the all-are-welcome-here attitude of Maplewood's residents which is reflected in the racial and cultural diversity of the neighborhoods—not to mention the charming colonial, Tudor, and Craftsman-style homes, and the small-town-meets-big-city feel that Maplewood offers.
Traveling to New York City is a breeze—just a quick, direct train ride away—which is why so many artists, actors, and creative types who work in the city choose to call Maplewood home.
Maplewood is a best-of-both-worlds community, boasting a quaint shopping village balanced by multiple vibrant retail areas. Maplewood's cultural projects are community-led, and it's no surprise to find art walks throughout the year, as well as commissioned murals and mosaics in public spaces .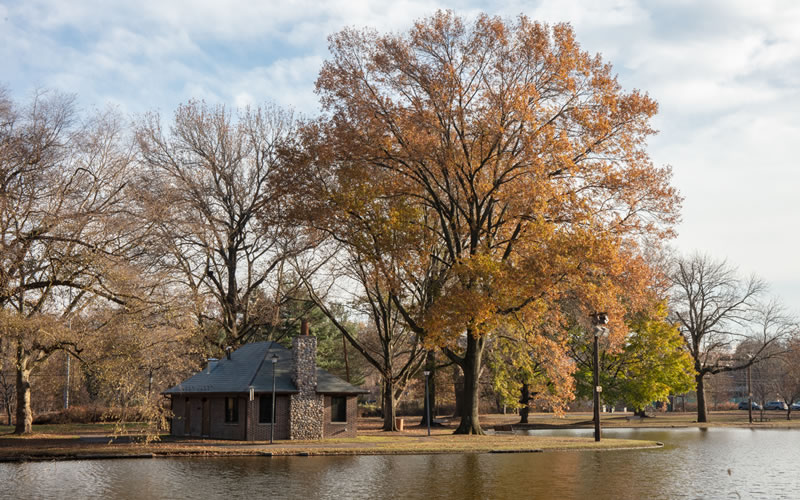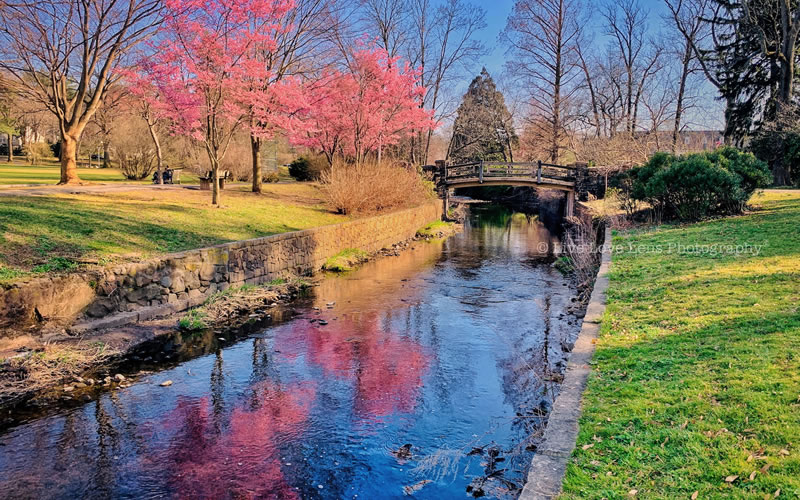 The History of the Two Towns
One of the reasons that South Orange and Maplewood are both so picturesque is the historic homes and buildings that line the streets, which help outline the history of the two cities. You'll find Tudor, Victorian, and Colonial homes complete with gas-lit lamps on street corners.
Founded nearly 400 years ago by settlers who bought the land from Native Americans in 1667, South Orange and Maplewood began as small towns rich in farmland until the 1800s, when they began to transition to more residential communities experiencing exponential growth in the early 1900s. Where before there were only 30 Puritan families settling in the area with a cluster of homes, a few shops, a blacksmith and a tavern, things began to develop with the addition of mills and railroads.
Both towns were incorporated in the late 1800s, and in the early 1900s the towns experienced major growth and lots of construction, including schools, homes, stores and more. This is why much of the architecture of both South Orange and Maplewood reflects the historic charm of this earlier period.
This charm combined with the introduction of mass transit for an easy commute into New York City in the latter part of the last century has fueled a rise in property values in the region.
During the late 1980s, residents began to worry about the shifting racial demographics of their community, and parents were expressing concerns about the school system. At this time, the Community Coalition on Race was formed (then called the Racial Balance Task Force).
Since its founding in 1996, the South Orange/Maplewood Community Coalition on Race has helped to create a renaissance in the two towns, where people of all ethnicities and backgrounds are welcomed into a driven community of equals who are passionate about community involvement.
Community Coalition on Race Origin Story
The South Orange/Maplewood Community Coalition on Race is the force behind SOMA's commitment to intentional racial integration. Founded in 1996 as the Racial Balance Task Force, residents and both town governments joined together to develop real solutions to problems they were seeing in their community. They saw stagnant property values, perceived white flight, and school system inequities that needed attention.
They committed to addressing those issues by
Promoting equitable involvement by persons of color in civic life
Facilitating dialogue and understanding of race-related issues by all people living within the community
Stimulating demand from all racial groups for housing in all neighborhoods of the community.
Results of the work include: increased housing values, maintained or improved racial stability in many census tracks, and ongoing initiatives with township and school leaders to adopt equitable practices. The Two Towns are now sought-after places to live and raise a family for people of all racial and cultural backgrounds. Today's Community Coalition on Race, now twenty five years strong, continues to advocate for racial inclusion and equity for the benefit of all who live in and visit the towns.
If you want to help create a harmoniously integrated community where all are valued, contact the Community Coalition on Race today to learn more about how you can get involved.